BF.com Elite Sponsor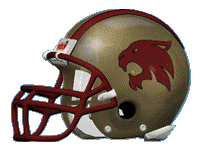 Joined: Mon Jan 02, 2006 4:23 am
Posts: 559
Location: Klein Tx
IMO ...we have so many great threats and talents at this position its hard to vote ... i think its a toss up between Morris Crosby and Cameron Luke. Both have what it takes ... Mo Crosby has the quickness and speed to go deep or over the middle whild eluding defenders. Cameron Luke is a big reciever that also can go over the middle and can break a corner down for and inside or outside route to grab a 1st down. While both are great players , they both have their differences ...With Mo's speed he can be used in many different areas of the offense to create mismatchs and Camerons size and strength, (as we seen in the SELA game last year), He is a valuable asset for the jump ball and taking the LB's big hit over the middle is not a problem.
MY 2 cents (vote) :
BOTH Cameron Luke and Morris Crosby!!
_________________

I AM a BOBCAT FAN!!!

"They said Bo didn't know football ... Well my name ain't Bo"
BF.com Elite Sponsor

Joined: Tue Jul 27, 2004 1:07 am
Posts: 3275
Location: San Marcos, TX.
here are last season stats for those who have not seen them.

RECEIVING GP No. Yards Avg TD Long Avg/G
Wasson, Chase 11 27 380 14.1 3 50 34.5
Crosby, Morris 10 25 391 15.6 3 73 39.1
Dunk, Galen 11 18 138 7.7 0 17 12.5
Scott, Tyrone 9 15 170 11.3 1 23 18.9
Canady, Alvin 9 14 229 16.4 2 83 25.4
Zwinggi, Stan 11 12 159 13.2 1 80 14.5
Darley, Alex 11 11 233 21.2 1 37 21.2
Thomas, Adrian 10 11 188 17.1 0 47 18.8
Miller, Ronnie 10 11 102 9.3 0 19 10.2
Luke, Cameron 10 9 128 14.2 3 29 12.8
Burton, Blake 8 6 38 6.3 2 13 4.8
Jolly, Daniel 8 5 26 5.2 0 14 3.2
McCorkle, Andre 5 3 7 2.3 0 5 1.4
Ford, John 6 1 23 23.0 0 23 3.8
Gilley, John 7 1 3 3.0 0 3 0.4
Cook, Clellan 6 1 0 0.0 0 0 0.0
Total.......... 11 170 2215 13.0 16 83 201.4
Opponents...... 11 167 2224 13.3 17 71 202.2



_________________


Semper Fidelis


"A bobcat will fight you with everything he has: with four claws, teeth, speed and brains."


-Oscar Strahan